Protect Your Business: The Ultimate Guide To Strengthening Your MSP's Cyber Security Stack
When I was running my MSP, I lost sleep wondering if my business was going to be the next in the crosshairs of a cyberattack. Even though I invested in what I considered very good (and expensive) security solutions, I couldn't tell if everything was working the way it should.
Having worked with MSPs across the world, I am convinced that anyone can effectively improve their security and grow their business if they are using the right tools and understand how to use them.
How can you protect and grow your business?
When I implemented my first cyber stack, my team had no idea how to effectively test our tools. Our auditing process was time-consuming and hard to get right. On top of all that, we couldn't convince clients and prospects why their network security was important. Ever have someone tell you, we haven't been hacked in the 12 years we've been in business, why should we change anything?
After recovering countless organizations from network-wide ransomware attacks (AND trying to convince C-level decisionmakers that they needed preventative security beforehand), it hit me that we needed a better way to assess, communicate and evaluate the efficacy of our cyber stacks. Security is a mindset. Until you're able to get your team, clients and prospects to really get why it's important, you will continue to spin your wheels.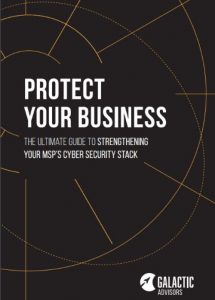 1.
The #1 hurdle in MSP security that's making you vulnerable to hackers.
2.
3 ways to improve your broken security and auditing process.
3.
A comprehensive strategy to increase client trust, keep competitors out of your networks and increase sales.
4.
A checklist to help you make sure your company's cyber stack is keeping your network and that of your clients' secure.
BONUS: A Super Simple Way to see if your network's security can withstand modern attacks.
To Download Your Free Copy Today,
Simply Fill Out The Form on This Page
Or Give Us A Call At (800) 837-1239

Complete This Form To
Get Instant Access