Free Executive Brief Reveals…
MSP Sales 2.0: Where MSPs Are LOSING Thousands Of Dollars Through Faulty Sales Processes And How You Can Fix It
When I was running my MSP, reports like this would take us around 6.2 hours from start to finish. That is a TON OF TIME. Time is money, right? I wasn't even factoring this in when I said thousands of dollars per month…
How much time are you spending on each of your audits?
We lost one out of four prospects who could not stomach giving us administrator access to their networks. If you are paying attention, you know that those prospects are costing you $400 to $1,800 dollars. That is per prospect. How many prospects are you willing to lose because they don't feel comfortable with your audit process?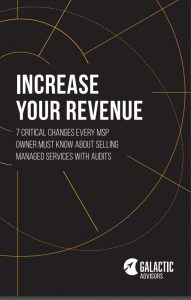 In this free executive brief, we cover:
1.
The #1 hurdle in MSP sales today (and what you can do about it).
2.
3 ways to improve your broken sales and auditing process right NOW.
3.
A comprehensive strategy to completely eliminate your busy high-paid technical resources from working on non-billable and costly sales audits.
4.
A checklist to help you make sure your company is adhering to a well-oiled sales process.
BONUS: A Super Simple Confidentiality and Non-Disclosure Agreement you can use to put your prospect's mind at ease.
To Download Your Free Copy Today,
Simply Fill Out The Form on This Page
Or Give Us A Call At (800) 837-1239

Complete This Form To
Get Instant Access